Got a hobby? Great. This is where a C-Line's Storage Box comes in handy. If you have several different parts or pieces in your hobby, like beads, or buttons, or glitter, then this storage box will be mighty handy. Or maybe you just have a lot of little things you need to separate.
The Storage Box has two compartments in the lid to hold smaller items and a compartment on the bottom to hold larger items. The wing lids on top and the lid over the larger compartment snap shut to secure the contents.
There must be 13 ways to use this product around the home. Are you hearing the 50 Ways to Leave Your Lover theme song in the background? Here are some suggestions on how to use C-Line's Storage Box in your home: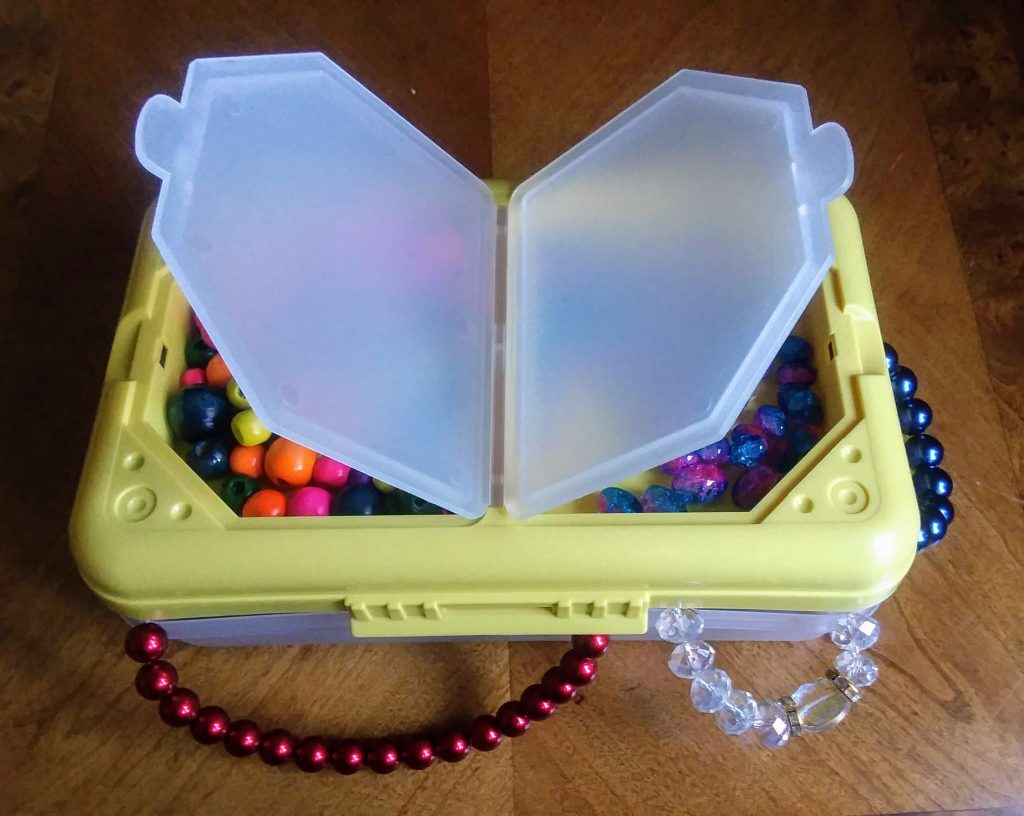 Office Products. Store pens, paperclips, binder clips, rubber bands, sticky notes, staples. You can use this for your home office. Anything and everything in your home office can go in here.
Jewelry Box. Smaller pieces like rings, tie tacks, hat pins, and money clips fit in the smaller storage compartments on top. While larger bangles like bracelets and necklaces can go in the bottom.
Pantry Helper. Plastic cutlery fits in the bottom, while things like sugar packets and toothpicks can go on top. Try using the Storage Box for things you don't use very often but can never find.
Hair Tools. Things like combs and brushes fit nicely in here. Plus, the box is plastic and works well around the bathroom.
Sewing Stuff. Keep your d needles and buttons in the top compartments.  And your thread at the bottom.
Remote Controls. You've got to have at least two or three. Why not know where they are with this Storage Box. You'll never misplace them again, as the bright color of the Storage Box makes it easy to spot on any table.
Batteries: Got a slew of batteries in half-opened plastic and cardboard packages, making it impossible to open your junk drawer. Organize them into the three compartments in the Storage Box. Larger batteries on the bottom, smaller ones on top. Always know where your new batteries are located.
First Aid Kit: Got one? Or do you just have all the parts of a first aid kit cluttering up a closet or a medicine cabinet? Or maybe even your linen closet. Put all the pieces together in this box. Add bandages, burn creams, over the counter medications, plus anything else you might need in a hurry.
Dental Care. Put all your dental products in a Storage Box. It will fit toothbrushes, toothpaste, dental floss, dental picks, and other accouterments.
Dryer Sheets. Okay, so they come in a box. But haven't you ever wondered how effective they after you've opened them and left them semi-open for days, weeks, months. Using this box, you can seal in the scent and perhaps their "newness". Who knows?
Eyeglasses: Sure, you think, but I put mine in my glass case. What if you have a couple of pairs? Then you can place them in the larger compartment of the box, and always know where they are. Which works well for sunglasses as well.
Cat/Dog Treats. The Storage Box might just keep your pet out of the drawer/cabinet where you keep them. Don't count on it. If nothing else, at least the treats will be fresher for your adorable pet.
Bartender's Helper. Coasters: If you have a number of coasters, you can organize them in the Storage Box. Stir Sticks: Some are plastic, some are glass, but unless you organize them, they are floating all over the place around your home, just waiting to be broken. Wine Charms to mark glasses. Beer bottle opener. Corkscrew. Check out our Wine By Your Side 3-Piece Wine Holder Set -- this will definitely not fit in the Storage Box!