As a newer employee at C-Line Products, I knew the company was family-oriented in their approach to everything. I was not surprised, when, in April, C-Line donated 100 N95 respirator masks to support essential workers of the village of Mt. Prospect's COVID-19 response efforts.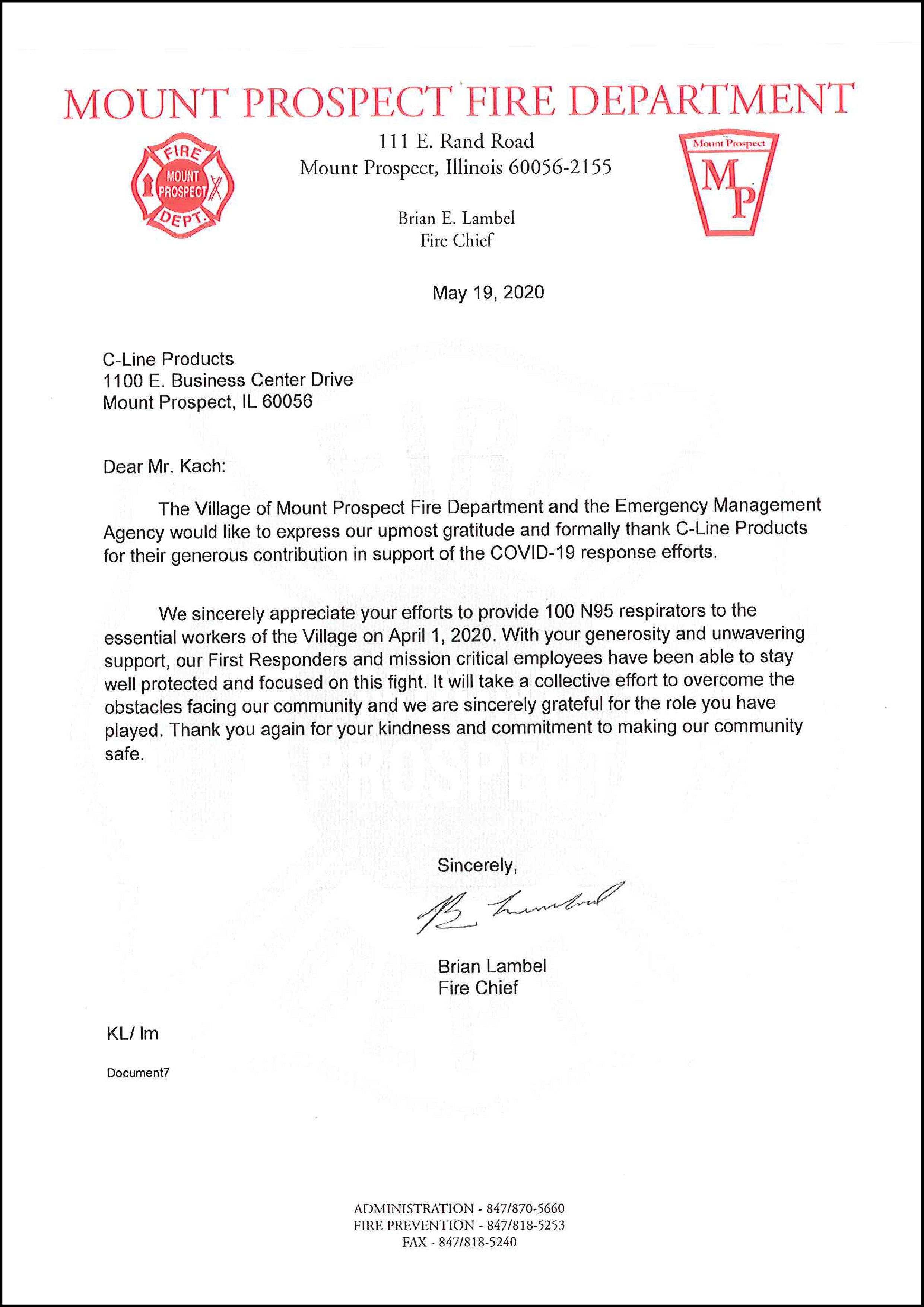 Letter of thanks from Mt. Prospect Fire Department for donation of respirators.

"With your generosity and unwavering support, our First Responders and mission critical employees have been able to stay well protected and focused on this fight. It will take a collective effort to overcome the obstacles facing our community and we are sincerely grateful for the role you have played. Thank you again for your kindness and commitment to making our community safe." Brian Lambel, Fire Chief, wrote.
What I learned was that giving back to the community is ingrained in the fiber of the C-Line family. Jim Krumwiede, C-Line's President and CEO, and Judi Krumwiede, VP of Employee and Customer Relations, decided to make their granddaughter's 5th birthday a special one. They also decided to make it a special one for first responders.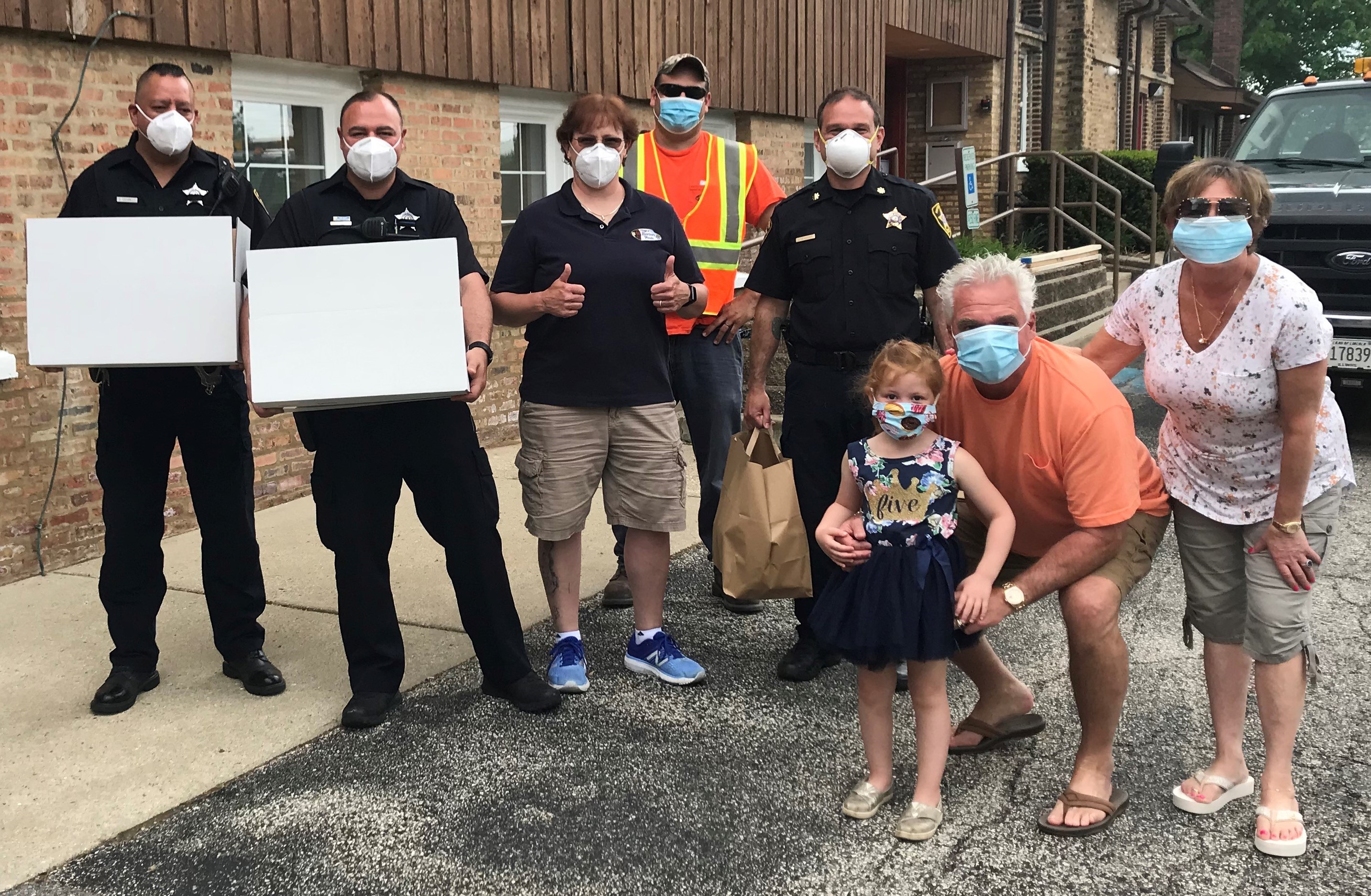 First responders on the left, with Jim Krumwiede and Judi Krumwiede and grandchild Peyton, on the right.

"Since we were unable to celebrate Peyton's birthday in the traditional sense, we decided to organize a birthday drive-by within our local community," said Jennifer Krach, Peyton's mother. "I had seen this idea on the news and thought it was such a wonderful concept. It really helps to bring a little extra cheer to young kiddos on their special day! An added layer of fun (and challenge) – my parents offered to donate money to our local first responders and healthcare workers for every vehicle that drove by to wish our little girl a happy day. The result was nothing short of amazing and incredibly heartwarming! Boxed lunch meals were donated to the real heroes of our community – the police department and hospital emergency room staff. It truly was a fantastic and memorable day, a 5th birthday we won't soon forget – full of all sorts of emotion – happiness, joy, gratitude, love, and support."
Peyton had a great birthday and loved saying hello to everyone in the cars as they drove by. I drove my car and was glad to help by just showing up. Between all the C-Line employees and the people they recruited, there were 90 cars and motorcycles that drove by Peyton's house in May.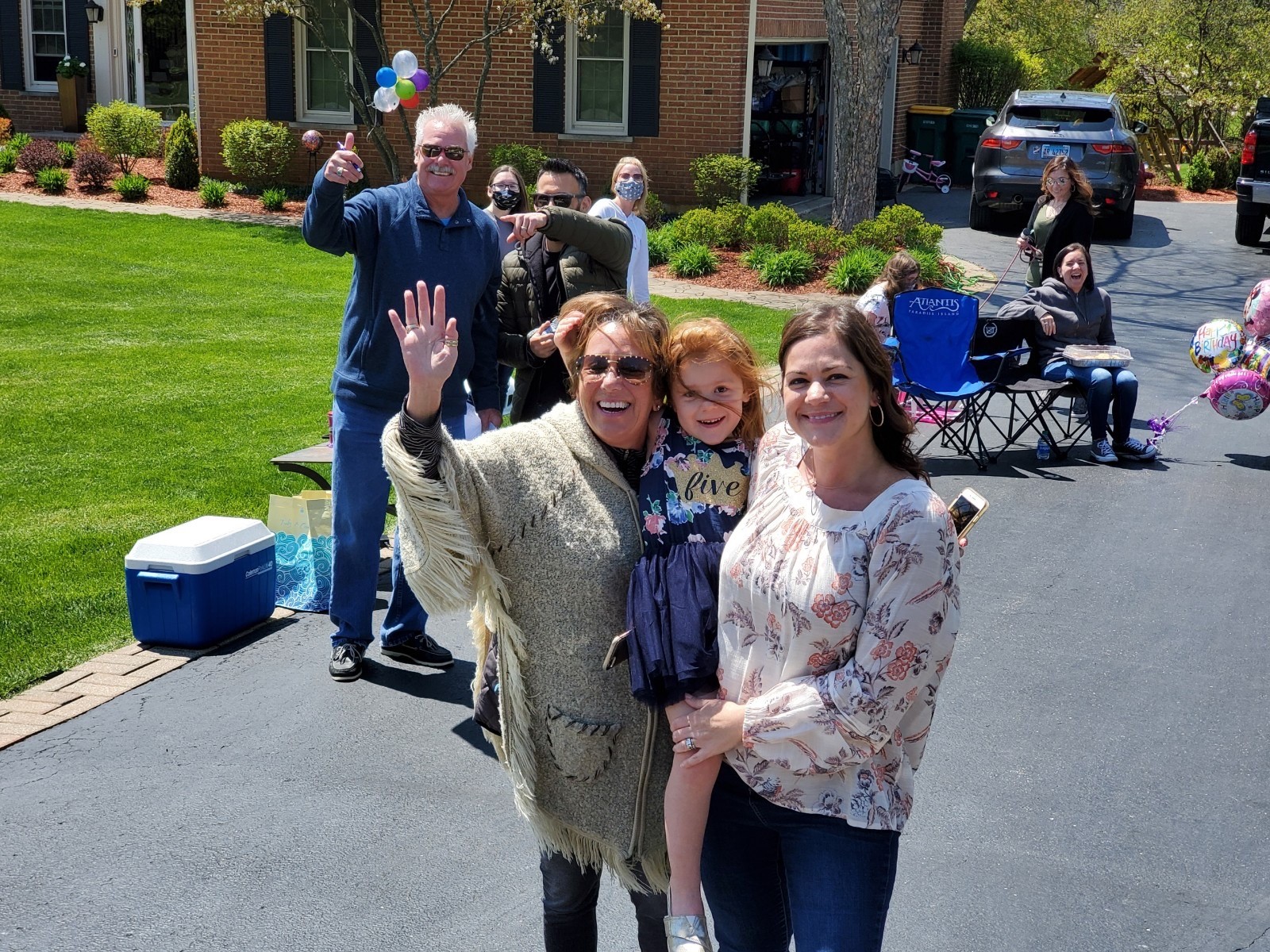 Jim Krumwiede, waves from behind and Judi Krumwiede waves in front, while Peyton is held by mom Jennifer Krach as cars and motorcycles drive by.

"We donated $900 in boxed lunches to the Hawthorn Woods Police Department and ER staff at Advocate Good Shepherd Hospital," said Jim Krumwiede. "We were grateful that we could use Peyton's birthday party as a way to give back to our first responders."
When I started at C-Line, I knew they were a small company. What I happily found out was that this small family company also has a big heart!

Tags: c-line blog, C-Line Products, Donations, First Responders, Giving Back