Do you search on Pinterest for organized office spaces for inspiration? Do you wish your office space was just as organized and pretty? Today, I will show you how to create labels and to better help you get your office Pinterest ready.

1. Download Built-In Templates in Microsoft Word
Head to C-Line's main website then click on the "templates" tab to find the appropriate template in the gallery here, or type in c-lineproducts.com/templates in the URL bar. For organizing our pantry, I decided to use C-Line's Self-Adhesive Labeling Pockets, which is item 70443 under the Shelf/Bin Label Holders category.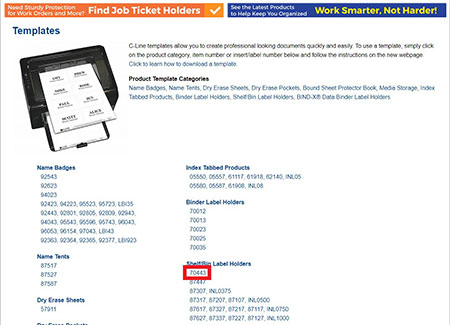 Download the label template from C-Line's template gallery.
2. Insert Information on the Label
Once the template is downloaded, make sure it is converted to work with the latest version of Microsoft Word on your computer. Then change the "LABEL NAME" on the template to items or categories that are in your office such as "TRADESHOW FILES", "TO DO FILE", "TAX FILES" etc.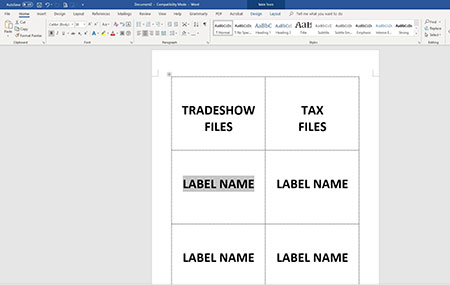 Change "Label Name" in the template to suit your needs.
3. Complete the Label with Stylish Designs
After the information is inserted, you can add more stylish designs to your labels such as adding a border, changing the border color, or adding images. To create a border, simply highlight "LABEL NAME" or the information you inserted. Then, under the Design tab, click Borders to select Borders and Shading from the drop-down menu. After that, change the Setting, Style, Width, and Color to your border preference. If you want an image on your label, copy it and paste it into the Word document. If the position is incorrect, click on the image to highlight it then go to the Layout tab, go to Wrap Text and change the layout of the image.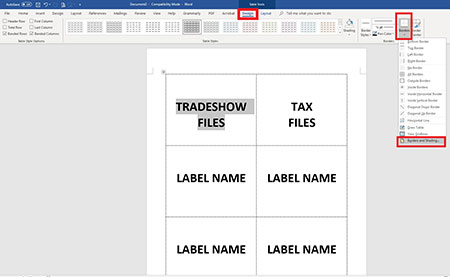 Add boarders or different designs to your labels.
Organizing your office with C-Line's Self-Adhesive Labels is very easy. Plus, it makes your office looks more organized. These labels make identifying items easily and can be applied to almost anywhere such as bins, shelves, drawers, etc. Instead of the office, you can also use it in your pantry. Create some labels for yourself and share with us your designs on Facebook.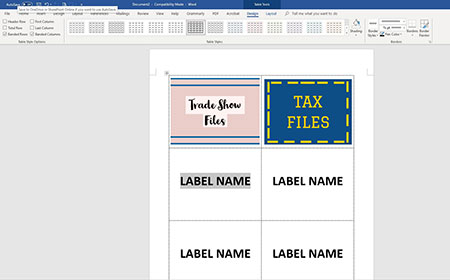 Here are some examples of the labels created using item #70443 template.
Note: All templates are applied through Microsoft Office 2016 on this blog. Please adjust compatibility mode to upgrade features.